Knowledge and perception of Family Medicine among medical students at University of Ibadan, Nigeria
O E Fasola

University College Hospital

A O Aloa

University College Hospital

B A Ibisola

University College Hospital

A M Obimakinde

University College Hospital

I C Odekunle

University College Hospital
Keywords:
knowledge, perception, Family Medicine, medical student, Ibadan
Abstract
Background: Postgraduate training in Family Medicine in Nigeria began over three decades ago, but it was not until recently that the National University Commission (NUC) made it a policy for all Nigerian universities to include undergraduate Family Medicine training in their curriculum. This study aimed to assess the awareness and perception of Family Medicine among medical students at the University College Hospital (UCH), Ibadan.
Method: A descriptive cross-sectional study was conducted over a period of four weeks (June 11–July 6, 2018) among 131 fourth-year, 118 fifth-year and 163 sixth-year medical students at UCH, Ibadan. Data were obtained using a self-administered questionnaire.
Results: Data were collected from 309 (75% of the target population). The mean age of the respondents was 22.3 ± 2.3 years. The majority (74.4%) did not have a family member who was a doctor and only 2.3% had a family member who was specialising in Family Medicine. Most of the participants (68.9%) had good knowledge of Family Medicine, while 57.3% had good perception of Family Medicine as a specialty. Importantly, an increase in year of clerkship was associated with an increase in the knowledge of Family Medicine among the respondents.
Conclusion: It was observed that with increase in length of exposure to Family Medicine as a specialty, knowledge and perception of the specialty improved among the medical students. It is imperative that all the medical schools in Nigeria implement the NUC directive and start undergraduate Family Medicine training.
The full article is available at https://doi.org/10.1080/20786190.2019.1648110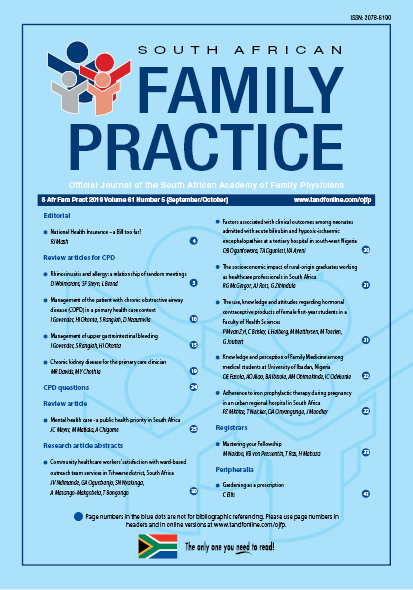 Section
Research Articles
By submitting manuscripts to SAFP, authors of original articles are assigning copyright to the South African Academy of Family Physicians. Copyright of review articles are assigned to the Publisher, Medpharm Publications (Pty) Ltd, unless otherwise specified. Authors may use their own work after publication without written permission, provided they acknowledge the original source. Individuals and academic institutions may freely copy and distribute articles published in SAFP for educational and research purposes without obtaining permission.