The use, knowledge and attitudes regarding hormonal contraceptive products of female first-year students in a Faculty of Health Sciences
P M Van Zyl

University of the Free State

C Brisley

University of the Free State

L Halberg

University of the Free State

M Matthysen

University of the Free State

M Toerien

University of the Free State

G Joubert

University of the Free State
Keywords:
emergency contraception, hormonal contraceptives, long-acting contraceptives, university students
Abstract
Background: Effective contraception plays a major role in the economic advancement of women. New hormonal products offer more effective solutions with fewer side effects. This study aimed to assess the use, knowledge and attitudes regarding hormonal contraception of female first-year students across various health profession courses.
Methods: A descriptive study was conducted during August to October 2017 targeting all female first-year students of the Faculty of Health Sciences at the University of the Free State.
Results: Self-administered anonymous questionnaires were completed by 261 students (response rate 81.6%). At the time of the study, 29.6% of the study population reported using hormonal contraceptive products; 51.7% of users cited acne as the indication. Among users of hormonal contraceptives, combined oral contraception was the most commonly used (86.0%), and was regarded as the most effective (33.2%). A third of the students (36.2%) were aware that some medication could influence the effectiveness of combined oral contraception. Half (52.3%) had no knowledge of the subdermal implant and 34.8% did not know what an intrauterine system was. According to 28.2%, post-coital use of hormonal products is not an acceptable method of contraception. Almost 90% (87.3%) indicated that an education intervention regarding hormonal contraception is needed at the university.
Conclusion: The study population lacks detailed and sufficient knowledge of critical aspects of contraception, such as relative effectiveness, and factors that affect these; long-acting reversible contraceptives; and emergency contraception. A formal education intervention is proposed.
The full articles is available at https://doi.org/10.1080/20786190.2019.1643197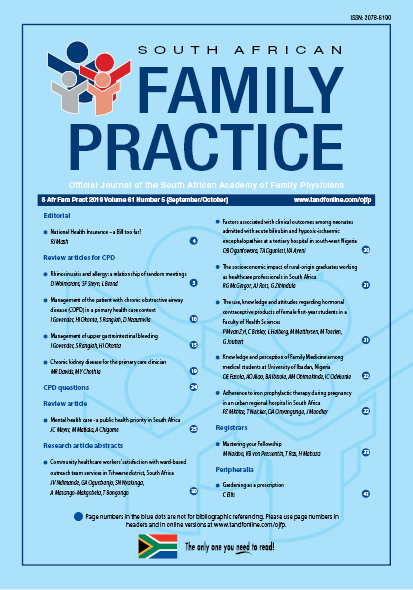 Section
Research Articles
By submitting manuscripts to SAFP, authors of original articles are assigning copyright to the South African Academy of Family Physicians. Copyright of review articles are assigned to the Publisher, Medpharm Publications (Pty) Ltd, unless otherwise specified. Authors may use their own work after publication without written permission, provided they acknowledge the original source. Individuals and academic institutions may freely copy and distribute articles published in SAFP for educational and research purposes without obtaining permission.