Community healthcare workers' satisfaction with ward-based outreach team services in Tshwane district, South Africa
J V Ndimande

Sefako Makgatho Health Sciences University

G A Ogunbanjo

Sefako Makgatho Health Sciences University

S N Nyalunga

Sefako Makgatho Health Sciences University

A Masango-Makgobela

Sefako Makgatho Health Sciences University

T Bongongo

Sefako Makgatho Health Sciences University
Keywords:
community, National Health Insurance (NHI), satisfaction, ward-based outreach teams
Abstract
Background: The incorporation of community healthcare worker (CHW) involvement in the management of patients is in line with the 2006 World Health Report, which advocates increased community participation and the systematic delegation of tasks to less specialised cadres. For CHWs to function optimally, satisfaction in their duties is paramount to promote quality healthcare. The health minister included ward-based outreach teams (WBOT) as part of the National Health Insurance.1 CHWs form an important link between healthcare facilities and the communities. This study aimed to measure the satisfaction level of the CHWs with WBOT services in the Tshwane district of South Africa.
Method: A cross-sectional study on CHWs was conducted in seven sub-districts. Data were obtained by trained data collectors using a piloted self-administered structured questionnaire from October 12 to November 3, 2015 in three local official languages. The study population of CHWs was 1 600. Using a 95% confidence level and 5% confidence interval, the sample size was 310. However, we over-sampled to 431 participants.
Results: The mean age was 36 years (SD ± 9.46). The majority were females (82.1%); more than three-quarters (77%) had secondary education. The majority were satisfied with the WBOT services whereby 59.8% was the lowest score and 98.4% the highest score. Close to two-thirds (62%) were not satisfied with their monthly stipends. The majority of the younger members of the team (20–40 years) were not valued by their co-workers (70% or 181/255) [p = 0.03]. The overall satisfaction (n = 8593) was 73.4% (p < 0.001).
Conclusion: Overall satisfaction of CHWs with WBOT is good news. Dissatisfaction regarding stipend/compensation must be addressed. CHWs should be valued and motivated.
The full article is available at https://doi.org/10.1080/20786190.2019.1608698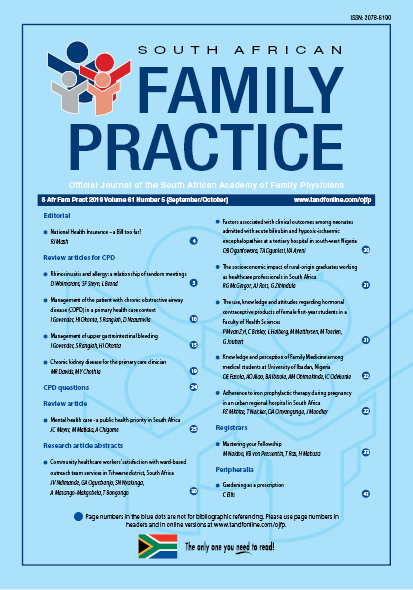 Section
Research Articles
By submitting manuscripts to SAFP, authors of original articles are assigning copyright to the South African Academy of Family Physicians. Copyright of review articles are assigned to the Publisher, Medpharm Publications (Pty) Ltd, unless otherwise specified. Authors may use their own work after publication without written permission, provided they acknowledge the original source. Individuals and academic institutions may freely copy and distribute articles published in SAFP for educational and research purposes without obtaining permission.