Mental health care - a public health priority in South Africa
J C Meyer

Sefako Makgatho Health Sciences University

M Matlala

Sefako Makgatho Health Sciences University

A K Chigome

Sefako Makgatho Health Sciences University
Keywords:
mental illness, stigma, suicide, management of mental disorders, adolescents, public health
Abstract
Mental health is an integral part of health and it includes an individual's emotional, psychological and social well-being. Mental illness remains underreported and underdiagnosed, particularly in low- and middle-income countries, including South Africa. South Africa carries a huge burden of mental illnesses with the most prevalent being anxiety disorders, substance abuse disorders, mood disorders and depression. People with mental health conditions often face neglect in the health system as well as stigma and discrimination. This has resulted in poor health outcomes, isolation and high suicide rates, including amongst adolescents. The South African National Mental Health Policy Framework and Strategic Plan (2013–2020) aims to integrate mental health into the health system to provide quality mental health services that are accessible, equitable and comprehensive, particularly for community-based mental health. This article provides an overview of mental health care in South Africa, highlighting its public health importance.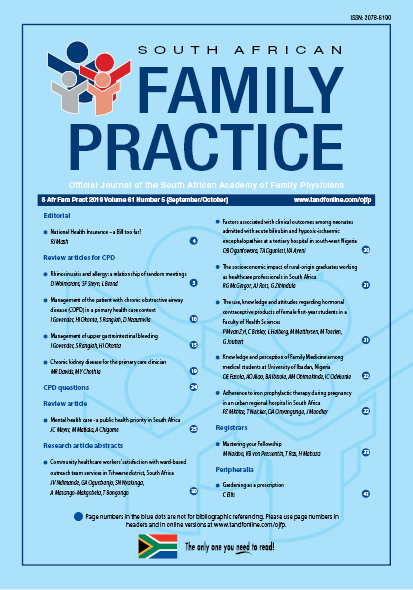 By submitting manuscripts to SAFP, authors of original articles are assigning copyright to the South African Academy of Family Physicians. Copyright of review articles are assigned to the Publisher, Medpharm Publications (Pty) Ltd, unless otherwise specified. Authors may use their own work after publication without written permission, provided they acknowledge the original source. Individuals and academic institutions may freely copy and distribute articles published in SAFP for educational and research purposes without obtaining permission.