National Health Insurance – a Bill too far?
Bob Mash

University of Stellenbosch
Abstract
The Deputy Minister of Health, Dr J Phaahla, opened our 22nd National Family Practitioners Conference with a plenary address and discussion on National Health Insurance (NHI). The NHI Bill is now before Parliament and there is much debate in the media regarding its pros and cons. Much of the media attention is skeptical and even derogatory with headlines such as "why South Africa's plans for universal healthcare are pie in the sky".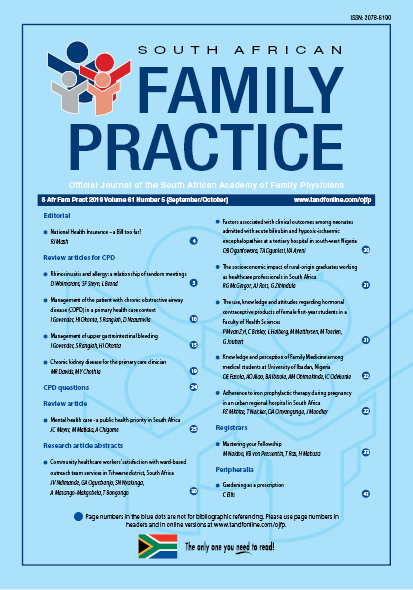 By submitting manuscripts to SAFP, authors of original articles are assigning copyright to the South African Academy of Family Physicians. Copyright of review articles are assigned to the Publisher, Medpharm Publications (Pty) Ltd, unless otherwise specified. Authors may use their own work after publication without written permission, provided they acknowledge the original source. Individuals and academic institutions may freely copy and distribute articles published in SAFP for educational and research purposes without obtaining permission.