Burning issues in acute heart failure management
Keywords:
Acute heart failure, pulmonary oedema, N-terminal pro-brain-type natriuretic peptide (NT-proBNP), loop diuretics, ivabradine, angiotensin receptor-neprilysin inhibitor (ARNI)
Abstract
In general, heart failure is the end-stage manifestation of cardiovascular disease and is an important and increasing cause of morbidity worldwide. Acute heart failure, whether of new onset or an exacerbation of chronic heart failure, causes sudden congestion, typically presenting as pulmonary oedema. The mortality associated with acute heart failure is extremely high. Potentially life-saving treatments and other burning issues are highlighted in this review.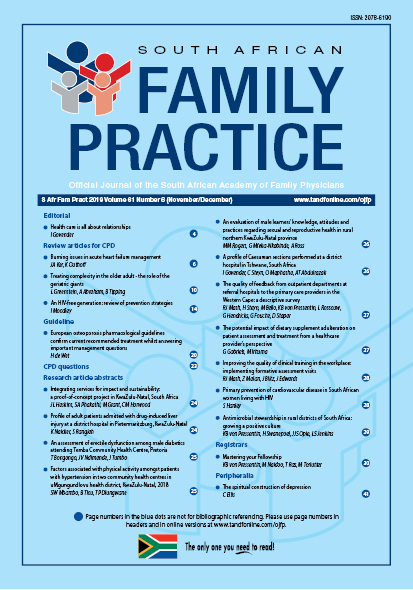 By submitting manuscripts to SAFP, authors of original articles are assigning copyright to the South African Academy of Family Physicians. Copyright of review articles are assigned to the Publisher, Medpharm Publications (Pty) Ltd, unless otherwise specified. Authors may use their own work after publication without written permission, provided they acknowledge the original source. Individuals and academic institutions may freely copy and distribute articles published in SAFP for educational and research purposes without obtaining permission.