Management of upper gastrointestinal bleeding
I Govender

University of Pretoria

S Rangiah

University of KwaZulu-Natal

H Okonta

Sefako Makgatho Health Sciences University
Keywords:
upper gastrointestinal bleeding, management
Abstract
This paper will describe the common symptoms, signs and causes of upper gastrointestinal bleeding. We will then provide advice on the management of upper gastrointestinal bleeding at primary care level.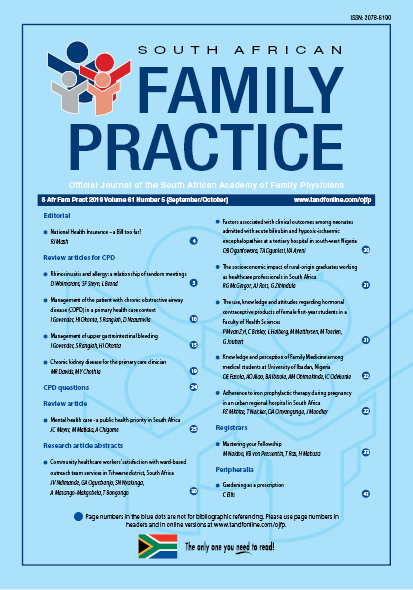 By submitting manuscripts to SAFP, authors of original articles are assigning copyright to the South African Academy of Family Physicians. Copyright of review articles are assigned to the Publisher, Medpharm Publications (Pty) Ltd, unless otherwise specified. Authors may use their own work after publication without written permission, provided they acknowledge the original source. Individuals and academic institutions may freely copy and distribute articles published in SAFP for educational and research purposes without obtaining permission.