Chronic kidney disease for the primary care clinician
M R Davids

Stellenbosch University

M Y Chothia

Stellenbosch University
Keywords:
chronic kidney disease, primary care clinician
Abstract
An epidemic of chronic kidney disease (CKD) is being experienced in South Africa. This is driven by a heavy burden of infections, non-communicable diseases, pregnancy-related diseases and injuries. The serious long term complications of CKD include end-stage renal disease, heart disease and stroke. Competing priorities such as the high burden of HIV, tuberculosis and other infections, unemployment and poverty result in serious constraints to providing comprehensive renal care, especially in the public healthcare sector. The prevention and early detection of CKD by primary care practitioners is therefore of utmost importance. Annual screening is recommended for patients at high risk of developing CKD. This involves checking blood pressure, urine dipstick testing for albuminuria or proteinuria and estimating the glomerular filtration rate from serum creatinine concentrations. In patients with established CKD, renoprotective measures are indicated to arrest or slow down the loss of renal function. These patients are at high risk of cardiovascular disease and close attention should be paid to optimally managing their risk factors.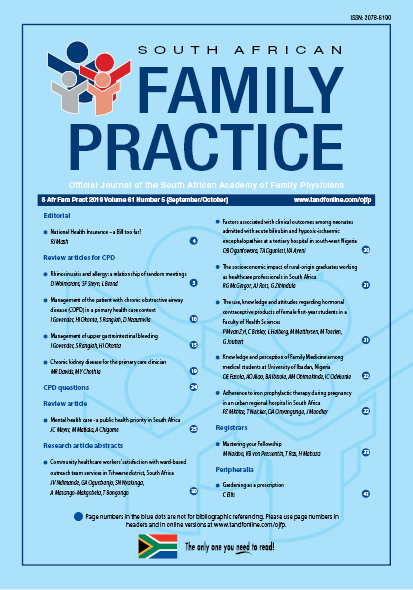 By submitting manuscripts to SAFP, authors of original articles are assigning copyright to the South African Academy of Family Physicians. Copyright of review articles are assigned to the Publisher, Medpharm Publications (Pty) Ltd, unless otherwise specified. Authors may use their own work after publication without written permission, provided they acknowledge the original source. Individuals and academic institutions may freely copy and distribute articles published in SAFP for educational and research purposes without obtaining permission.