Rhinosinusitis and allergy: a relationship of random meetings
D Wolmarans

North-West University

S F Steyn

North-West University

L Brand

North-West University
Keywords:
Rhinosinusitis, Allergy
Abstract
Sinusitis, more aptly referred to as rhinosinusitis, can be described as a symptomatic inflammatory condition of the paranasal sinuses and the nasal cavity. Generally, the condition is regarded as acute (ARS) if lasting up to 4 weeks, sub-acute when lasting between 4 and 12 weeks, and chronic (CRS) if symptoms present for more than 12 weeks.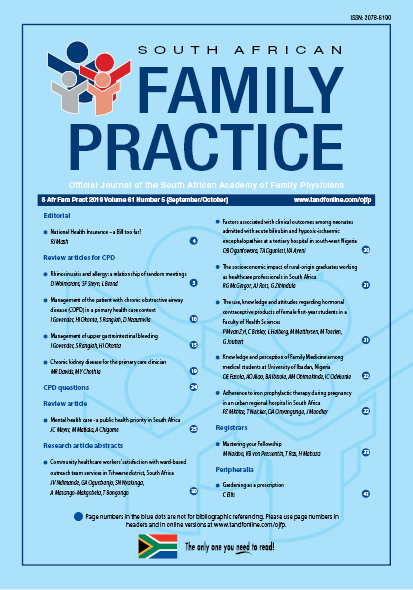 By submitting manuscripts to SAFP, authors of original articles are assigning copyright to the South African Academy of Family Physicians. Copyright of review articles are assigned to the Publisher, Medpharm Publications (Pty) Ltd, unless otherwise specified. Authors may use their own work after publication without written permission, provided they acknowledge the original source. Individuals and academic institutions may freely copy and distribute articles published in SAFP for educational and research purposes without obtaining permission.