Factors associated with clinical outcomes among neonates admitted with acute bilirubin and hypoxic-ischaemic encephalopathies at a tertiary hospital in south-west Nigeria
O B Ogunfowora

Olabisi Onabanjo University Teaching Hospital

T A Ogunlesi

Olabisi Onabanjo University Teaching Hospital

V A Ayeni

Olabisi Onabanjo University Teaching Hospital
Keywords:
Asphyxia, Health system, Hypoxic-ischaemic Encephalopathy, Newborn, Referral, Severe hyperbilirubinaemia
Abstract
Background: Babies who are delivered outside hospital are most at risk of serious illnesses such as perinatal asphyxia and severe hyperbilirubinaemia. These conditions are major contributors to neonatal mortalities in resource-poor settings.
Objective: To explore the relationship between pre-admission and intra-facility care and immediate outcomes among neonates with acute bilirubin and hypoxic-ischaemic encephalopathies.
Methods: Using a retrospective design, the outcome of outborn babies with acute bilirubin encephalopathy (ABE) and hypoxicischaemic encephalopathy (HIE) were studied in a Nigerian hospital between 2012 and 2016.
Results: A total of 40 and 80 babies with ABE and HIE were studied. Among babies with ABE, 67.5% arrived at the hospital on selfreferral and of the babies with official referral, only 61.5% had had a serum bilirubin check prior to referral. Among the babies with ABE, 25.0% had both social and facility-related challenges, 45.0% had only facility-related challenges and 20.0% had only social challenges. All the babies with ABE who died had either social or facility-related challenges. For the babies with HIE, 56.2% came on self-referral while 70% received no care prior to presentation at the hospital. Some 40% of babies with HIE had both social and facility related challenges while 12.5% had only facility-related challenges. None of the babies who died presented early. Comparable proportions of babies who died or survived had social challenges and facility-related challenges.
Conclusion: Most of the outborn babies with HIE and ABE who arrived at the hospital on self-referral and facility-based care were hindered by social issues and facility-related challenges.
The full articles is available at https://doi.org/10.1080/20786190.2019.1622857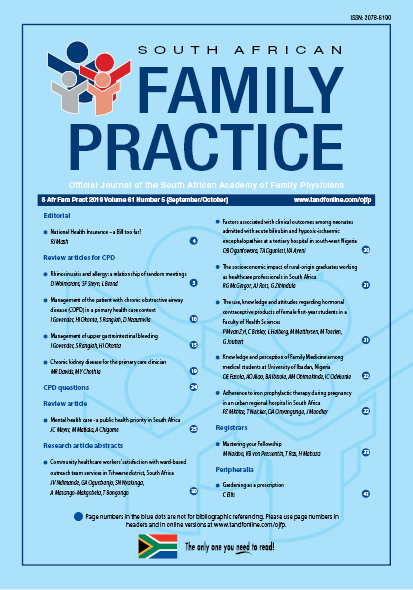 Section
Research Articles
By submitting manuscripts to SAFP, authors of original articles are assigning copyright to the South African Academy of Family Physicians. Copyright of review articles are assigned to the Publisher, Medpharm Publications (Pty) Ltd, unless otherwise specified. Authors may use their own work after publication without written permission, provided they acknowledge the original source. Individuals and academic institutions may freely copy and distribute articles published in SAFP for educational and research purposes without obtaining permission.