The potential impact of dietary supplement adulteration on patient assessment and treatment from a healthcare provider's perspective
Gary Gabriels

University of the Witwatersrand

Mohamed Irhuma

University of the Witwatersrand
Keywords:
communication, curriculum, life-style, physician–patient relationship
Abstract
Dietary supplements have been manufactured and supplied to the market with the objective of enhancing the overall health of the general population and optimising the performance of athletes. The perceived intention of dietary supplementation is to increase the nutritional content of a normal diet, and to fill a dietary need and/or presumed deficiency. The usage and popularity of dietary supplements, however, raises concerns from a health benefit and risk perspective. Moreover, safety and efficacy of these supplements have generally not been established by the Medicines Regulatory Authorities, both nationally and internationally. The exponential increase in supplement sales can, however, be attributed to aggressive marketing by manufacturers, rather than the development of more effective nutritional supplements. These supplements may contain adulterated substances that may potentially have harmful short- and long-term health consequences for the patient. In addition, a large spectrum of drug interactions may render the use of such supplements risky, without proper medical and scientific assessment.
The full article is available at https://doi.org/10.1080/20786190.2019.1609757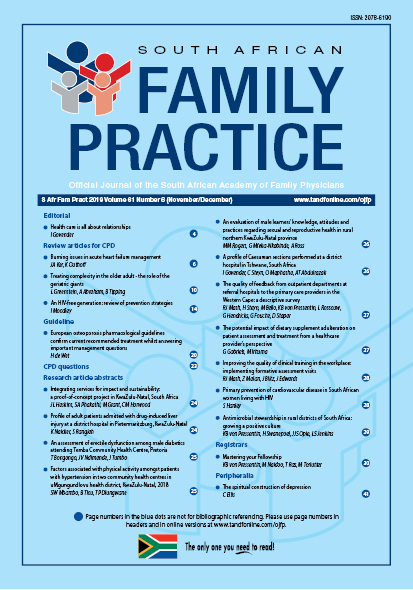 By submitting manuscripts to SAFP, authors of original articles are assigning copyright to the South African Academy of Family Physicians. Copyright of review articles are assigned to the Publisher, Medpharm Publications (Pty) Ltd, unless otherwise specified. Authors may use their own work after publication without written permission, provided they acknowledge the original source. Individuals and academic institutions may freely copy and distribute articles published in SAFP for educational and research purposes without obtaining permission.