Adherence to iron prophylactic therapy during pregnancy in an urban regional hospital in South Africa
P Z Mkhize

University of KwaZulu-Natal

T Naicker

University of KwaZulu-Natal

O A Onyangunga

University of KwaZulu-Natal

J Moodley

University of KwaZulu-Natal
Keywords:
adherence, anaemia, iron deficiency, pregnancy supplements, reticulocyte
Abstract
Background: Iron and folic acid supplementation plays a major role in the prevention and control of iron deficiency anaemia in pregnancy. Therefore, this study assesses adherence to prophylactic iron supplementation during the antenatal period in South Africa.
Methods: An observational study was conducted in a regional hospital from January to December 2016. HIV-uninfected (n = 100) and HIV-infected (n = 100)] women were enrolled and subdivided into three groups: (a) ≤ 34 weeks (n = 33), (b) 34–36 weeks (n = 34) and (c) ≥ 37 weeks (n = 33) gestational age respectively. A structured questionnaire was used for data collection. Data were coded and statistically analysed using SPSS software. Pill count and self-reported data from women (n = 24) at ≤ 34 weeks and 34–36 weeks reflected < 50% adherence and 46% non-adherence, being higher in the HIV-infected women (75%). Nausea was the commonest side effect across all trimesters (79. 2%). Adherence (27.8%) and non-adherence (72.1%) to iron, folic acid and calcium supplementation were found in 88% of women.
Conclusion: This study found that adherence to micronutrient supplementation is low in pregnancy, albeit higher in HIV-infected women receiving antenatal care at a regional hospital in Durban, South Africa.
The full article is available at https://doi.org/10.1080/20786190.2019.1654705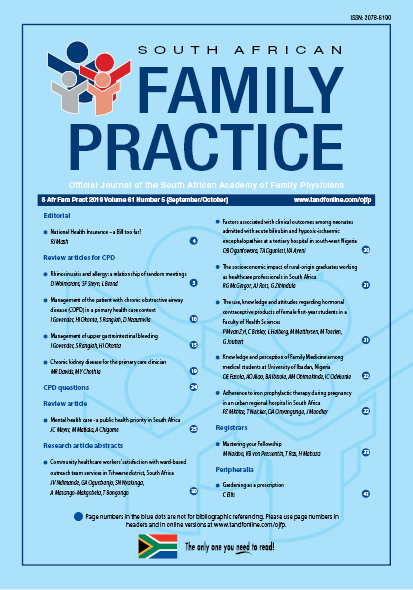 Section
Research Articles
By submitting manuscripts to SAFP, authors of original articles are assigning copyright to the South African Academy of Family Physicians. Copyright of review articles are assigned to the Publisher, Medpharm Publications (Pty) Ltd, unless otherwise specified. Authors may use their own work after publication without written permission, provided they acknowledge the original source. Individuals and academic institutions may freely copy and distribute articles published in SAFP for educational and research purposes without obtaining permission.