Have we lost the global obesity battle?
Gboyega A Ogunbanjo

Editor-in-chief South African Family Practice Journal
Abstract
In 2013, I wrote two successive editorials on obesity in this journal.1,2 This was in response to my concern that little action is being taken by adults, children, healthcare workers and politicians to address this serious problem, present in our public and private healthcare systems, and with disastrous health management challenges. In 2013, according to available South African national data, it was estimated that a third of all South African women were obese. The incidence in coloured, white and Indian women was similar, with approximately a quarter being obese. South African men were significantly less likely to be obese than women. Less than one tenth were obese. When disaggregated by population group, approximately 18% of all white men are obese, followed by 9% of Indians, 8% of coloureds and 6% of African men.3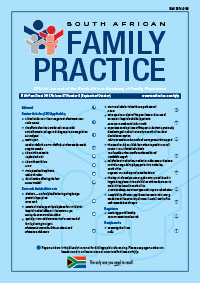 By submitting manuscripts to SAFP, authors of original articles are assigning copyright to the South African Academy of Family Physicians. Copyright of review articles are assigned to the Publisher, Medpharm Publications (Pty) Ltd, unless otherwise specified. Authors may use their own work after publication without written permission, provided they acknowledge the original source. Individuals and academic institutions may freely copy and distribute articles published in SAFP for educational and research purposes without obtaining permission.