First episode schizophrenia
Nadira Khamker

University of Pretoria
Keywords:
hallucinations, psychiatric condition, psychotic, schizophrenia, social withdrawal
Abstract
Schizophrenia is a chronic psychiatric condition. Patients with schizophrenia present clinically with psychotic, negative and cognitive symptoms, which can become evident late in adolescence or in early adulthood. The peak age for presentation is 20 years in males and 25 years in females. This chronic condition follows a relapsing remitting course, and eventually results in a chronic state of residual symptoms and functional impairment.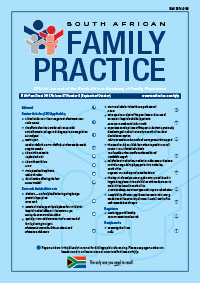 By submitting manuscripts to SAFP, authors of original articles are assigning copyright to the South African Academy of Family Physicians. Copyright of review articles are assigned to the Publisher, Medpharm Publications (Pty) Ltd, unless otherwise specified. Authors may use their own work after publication without written permission, provided they acknowledge the original source. Individuals and academic institutions may freely copy and distribute articles published in SAFP for educational and research purposes without obtaining permission.