Skin disorders affecting the feet
Mojakgomo H Motswaledi

Sefako Makgatho Health Sciences University
Keywords:
skin disorders, feet, inflammatory disorders, palmoplantar keratodermas, ainhum, infections, neoplastic disorders
Abstract
Skin disorders of the feet can affect the glabrous skin on the dorsal aspects, or the thick skin on the plantar aspects, thereof, or both. Some can affect one foot, and others both of them. These diseases can be inflammatory, genetically inherited, infectious and neoplastic in origin. It is important to identify them and to start treatment early. If not treated, some may lead to severe pain on walking, the inability to wear shoes, and amputation with serious disability.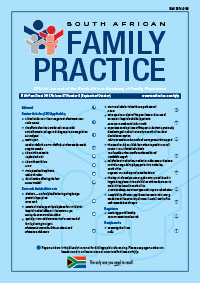 By submitting manuscripts to SAFP, authors of original articles are assigning copyright to the South African Academy of Family Physicians. Copyright of review articles are assigned to the Publisher, Medpharm Publications (Pty) Ltd, unless otherwise specified. Authors may use their own work after publication without written permission, provided they acknowledge the original source. Individuals and academic institutions may freely copy and distribute articles published in SAFP for educational and research purposes without obtaining permission.