Experiences and opinions of first-year students at a previously disadvantaged medical university in South Africa about alcohol consumption
Indiran Govender

Sefako Makgatho Health Sciences University

Kathryn Nel

University of Limpopo

Mory Mogotsi

Sefako Makgatho Health Sciences University
Keywords:
alcohol use, first-year students, medical students, opinions and experiences
Abstract
Background:
The use of alcohol amongst first year students in institutions of higher learning is problematic as it often leads to social and academic problems, for instance, high drop-out rates and high risk sexual behaviour. Research on first year students' opinions about their own use of alcohol at the University of Limpopo, Medunsa Campus, was seen as pertinent as it trains medical doctors, dentists and other health professionals. The findings could inform appropriate interventions by policy makers at the institution. This paper presents the data gleaned from the qualitative component of the research.
Methods:
A sample of 217 first year students was obtained. The questionnaire included open ended questions formulated from discussions with a focus group of eight first year students. The open ended questions were formulated in a manner that allowed participants to give an account of their experience and opinions related to the drinking of alcohol. Thematic Content Analysis was used to analyse qualitative data.
Results:
There were 90 (41.5%) females, 13 (6%) Whites, 196 (90.3%) Blacks, 4 (1.8%) Asian and 4 (1.8%) Coloured students. The study revealed substantive views of first year students' opinions and experiences of alcohol consumption, themes gleaned from the interpretation were awareness, physical location of the campus, economic opportunities, health considerations, identity, belief in alcohol use and interventions.
Conclusion:
The results indicate that first year students have varying opinions and experiences about alcohol consumption at the University of Limpopo (Medunsa campus). Social identity and peer pressure are motivating factors among students' use of alcohol. (Full text available online at
www.medpharm.tandfonline.com/ojfp
) S Afr Fam Pract 2015;
DOI: 10.1080/20786190.2015.1071539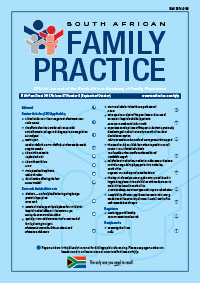 Section
Research Articles
By submitting manuscripts to SAFP, authors of original articles are assigning copyright to the South African Academy of Family Physicians. Copyright of review articles are assigned to the Publisher, Medpharm Publications (Pty) Ltd, unless otherwise specified. Authors may use their own work after publication without written permission, provided they acknowledge the original source. Individuals and academic institutions may freely copy and distribute articles published in SAFP for educational and research purposes without obtaining permission.