Remote clinical support by telephone for rural district hospital medical officers in the Eastern Cape
M Onke Nqala

University of KwaZulu-Natal

Chris Rout

University of KwaZulu-Natal

C M Aldous

University of KwaZulu-Natal
Keywords:
foreign medical graduates, remote clinical support, rural doctors, telephonic consultation
Abstract
Background:
Rural district hospitals are frequently understaffed and relatively inexperienced medical officers must make clinical decisions with little or no supervision. Medical officers from rural district hospitals in the Eastern Cape attending a two week "in-reach" supplementary anaesthesia training course at the Port Elizabeth academic complex were provided with subsequent telephonic support that enabled them to contact an experienced anaesthetist in the urban centre with clinical problems for advice at any time. This observational questionnaire-based survey, including open-ended questions, was to determine user perceptions of the utility and effectiveness of the telephonic support system.
Methods:
Two questionnaires designed for both rural and urban-based doctors were completed either online or telephonically and were used to assess perceived values and limitations of the support system.
Results:
Seventeen rural doctors, of whom 14 were foreign medical graduates, were eligible and agreed to participate; all were positive about the useful role and value of the programme, although many felt that the telephonic support system needs to be more structured and formalized. Open-ended questions revealed feelings of isolation and insecurity amongst the participants.
Conclusion:
The telephonic system is valuable, useful, readily accessible and inexpensive. However, its ready acceptance by the participants should be viewed in the light of the lack of other resources. A systemic approach towards clinical support of medical officers in remote rural district hospitals should be adopted, that might include remote supervision by telephone. (Full text available online at
www.medpharm.tandfonline.com/ojfp
) S Afr Fam Pract 2015;
DOI: 10.1080/20786190.2015.1055671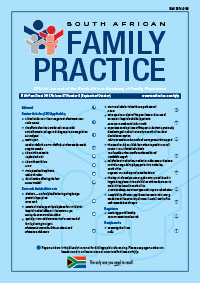 Section
Research Articles
By submitting manuscripts to SAFP, authors of original articles are assigning copyright to the South African Academy of Family Physicians. Copyright of review articles are assigned to the Publisher, Medpharm Publications (Pty) Ltd, unless otherwise specified. Authors may use their own work after publication without written permission, provided they acknowledge the original source. Individuals and academic institutions may freely copy and distribute articles published in SAFP for educational and research purposes without obtaining permission.