Silodosin — a safer alpha-blocker targeting benign prostatic hyperplasia
Keywords:
alpha-1A receptor inhibitor, benign prostatic hypertrophy, BPH, lower urinary tract symptoms
Abstract
Silodosin is a specific alpha-1A receptor inhibitor newly available in South Africa. It offers a real solution to symptoms of BPH especially in those patients with moderate prostate enlargement experiencing nocturia, frequency and incomplete voiding. It can be safely used in patients who cannot tolerate non-selective alpha blockers. The main side-effect is anejaculation, but this seldom leads to drug discontinuation. The rapid action and ongoing effectiveness of the drug offers swift relief for patients. (Full text available online at
www.medpharm.tandfonline.com/ojfp
) S Afr Fam Pract 2015;
DOI: 10.1080/20786190.2014.978099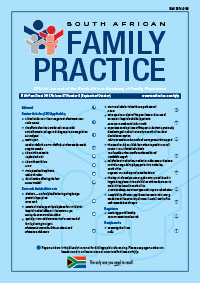 Section
Research Articles
By submitting manuscripts to SAFP, authors of original articles are assigning copyright to the South African Academy of Family Physicians. Copyright of review articles are assigned to the Publisher, Medpharm Publications (Pty) Ltd, unless otherwise specified. Authors may use their own work after publication without written permission, provided they acknowledge the original source. Individuals and academic institutions may freely copy and distribute articles published in SAFP for educational and research purposes without obtaining permission.