Allergic disorders of childhood - A guide to diagnosis and management
E G Weinberg

Red Cross Hospital
Keywords:
Hypersensitivity, Child, Diagnosis, Physician, family
Abstract
The author discusses several studies done in South Africa and abroad on the complex issue of patient compliance. He concludes that a good doctor-patient relationship where the doctor takes heed of the expectations and fears of the patient, involves him in deciding on the treatment and where the patient understands the treatment, could influence compliance favorably.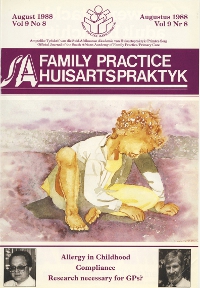 By submitting manuscripts to SAFP, authors of original articles are assigning copyright to the South African Academy of Family Physicians. Copyright of review articles are assigned to the Publisher, Medpharm Publications (Pty) Ltd, unless otherwise specified. Authors may use their own work after publication without written permission, provided they acknowledge the original source. Individuals and academic institutions may freely copy and distribute articles published in SAFP for educational and research purposes without obtaining permission.