Compliance - What's it all about?
Keywords:
Compliance, Physician Patient Relationship, Physicians, family
Abstract
Allergy is responsible for many problems in the paediatric age-group. At times the most difficult problem for the doctor is to decide if the patient is indeed allergic and if so, to what. Skin tests remain the first choice for accurate diagnosis and RAST an important aid in many cases. Treatment consists of avoiding the offending agent if possible, controlling symptoms with appropriate medication and using desensitisation if indicated.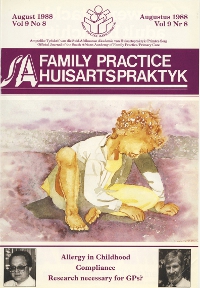 By submitting manuscripts to SAFP, authors of original articles are assigning copyright to the South African Academy of Family Physicians. Copyright of review articles are assigned to the Publisher, Medpharm Publications (Pty) Ltd, unless otherwise specified. Authors may use their own work after publication without written permission, provided they acknowledge the original source. Individuals and academic institutions may freely copy and distribute articles published in SAFP for educational and research purposes without obtaining permission.